About Us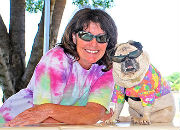 Dogs Life Boarding is operated by Starr Nadin Reimer on ranch acreage in Rio Linda Ca, conveniently located near the Sacramento International Airport, Interstates 5  and 80, and Highways 99 and 70. Starr has a background as an animal health technician and is an avid dog lover. Starr is an active volunteers with Pug Rescue, a local Sacramento dog rescue group, over the last 10 years and have fostered many Pugs who were awaiting their "forever" homes.
She offers a "European Boutique Style" dog boarding experience for your dog. We are not like a commercial kennel. Dogs have free access out into the play yards and in the house. We do not overbook, so each dog gets lots of attention, and we offer very affordable rates.
We have many happy customers, and look forward to meeting you and your "fur baby"!
Please Note: A Pre-booking visit with you and your dog is required prior to your first dog boarding reservation with us.
Call us today at (530) 575-2615 for more information, or to arrange for your  Pre-booking appointment.

See our Pre-Booking policy here.